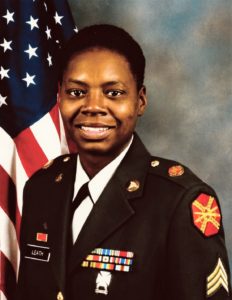 Growing up, everyone I knew wanted to be a police officer, doctor or firefighter.
Me? I wanted to be a psychologist.
I earned a Bachelor of Arts in psychology and have experience providing case management services for people living with severe mental illnesses. I also served as a behavioral health technician for the U.S. Army and had the opportunity to complete two combat tours, providing mental health and traumatic event management services to our troops in support of both Operation Iraqi Freedom and Operation Enduring Freedom.
I now serve as the crisis intervention administrator (CIA) for Las Vegas Fire and Rescue (LVFR). In this role, I provide day-to-day emotional support for all our employees and their families, critical incident stress management for the suppression crews and the Fire Alarm Office (FAO) – also known as the 911-dispatch center – and behavioral health training to our peer support team and other department staff, which is how I stumbled upon and became an Instructor with Mental Health First Aid.
Through my Mental Health First Aid trainings and my tenure at LVFR, I have found that the culture of first responders surrounding mental health is not much different from that of the military. The "suck it up and do your job" attitude makes it very difficult for people who are living with mental health challenges to reach out for help. But the response from first responders I've trained in Mental Health First Aid thus far has been overwhelmingly positive.
Our firefighters and communication specialists work in fast-paced, high stress, traumatic environments every single day. People call 911 on the worst days of their lives, and it's our job to respond. Last year alone, our FAO fielded more than 108,000 calls. The cumulative stress that builds up can be very detrimental to our mental health.
Firefighters are almost four times more likely to die from suicide than in the line of duty. The few studies that exist on 911 communication specialists suggest that the rate of post-traumatic stress disorder (PTSD) symptoms are similar to that of combat veterans. Despite these alarming statistics, very little has been done to address the mental health needs of firefighters and emergency medical services (EMS) workers.
The stigma surrounding mental health is so severe that many of our first responders cope by turning to alcohol, using prescription medication or attempting and completing suicide. The time to start recognizing and joining together to initiate change for these populations is well overdue.
This is where Mental Health First Aid for Fire/EMS can play a vital role.
The biggest factors in reducing stigma are knowledge and education. Mental Health First Aid not only covers the gamut of mental health and substance use disorders, it also teaches precise ways to intervene. Knowing what to do upon recognizing something is wrong is crucial – it is here that change can occur. Mental Health First Aid's 5-step action plan, ALGEE, provides a simple and easy to remember way to provide intervention.
The training is also a valuable resource to help improve the way our responders assist people in the community living with mental illnesses. Understanding how mental illnesses affect people allows us to begin to feel empathy for that person. The knowledge gained through the training brings the realization that mental health issues do not only affect the person who is homeless on the street corner, but that mental health issues can affect anyone.
The unveiling of the Fire/EMS module is critical in providing our first responders with mental health training that they can truly find relatable. Normalizing mental health issues for fire and EMS personnel is a way to let them know they are not alone and provide them with the tools they need to understand, recognize and intervene when they see their peers experiencing and mental health or substance use challenge.
---
Angela Leath is a crisis intervention administrator for Las Vegas Fire and Rescue.