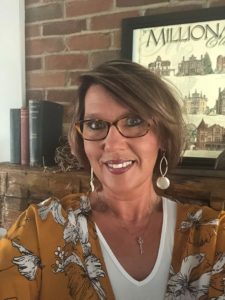 When I was a child, I lost my grandfather, a WWII veteran, to suicide and my dad, a Vietnam veteran, to a substance use disorder. But our family was silent because of the stigma and shame surrounding it.
As a nurse I have treated more people with PTSD, substance use disorders and following suicide attempts than I can count. But my work as a Mental Health First Aid Instructor for veterans is most meaningful and most impactful for me.
When veterans return home from serving our country, we must be prepared to handle all of their unique needs. Our current service members and veterans have a distinct culture with unique mental health needs. And that is why courses like Mental Health First Aid for Veterans are so important.
My first Mental Health First Aid class was small, but successful and then the word spread like wildfire. I was overwhelmed with calls and emails, asking when the next training would be.
It turned out that I greatly underestimated the demand for this information. Not only did the material presented improve the outcomes of our veterans, it also increased our staff's confidence and morale. The next class filled up in two days and had a waiting list. Since enrollment response was amazing, additional training dates were added. With so much positive response, the Mental Health First Aid program was presented to leadership at the Northeast Ohio VA Healthcare System and is now considered a best practice.
Out of the blue I received an email from Jeremy, a fellow employee who had seen a call to register for a Mental Health First Aid training. Jeremy informed me that he had independently become certified as an Instructor through the Ohio National Guard a year earlier and volunteered to provide instructional support. BINGO! I was blessed with another Instructor who is just as passionate about this topic as I am. With two certified Instructors, we have the ability to reach so many more people.
Jeremy is a certified Master Resilience Trainer through the University of Pennsylvania, and a 20+ year member of the United States Army and the Ohio Army National Guard. As a veteran, Jeremy can offer participants the unique experience and perspective of the military culture while I focus on the clinical, assessment and intervention aspects. Our professional and personal experiences give us the ability to relate to all these facets.
I am often approached in the halls by prior attendees, anxious to tell me about how they were able to identify and help a veteran in crisis. Due to the stigma surrounding mental health disorders, many service members and veterans have a difficult time beginning the dialogue and seeking help. Thanks to Mental Health First Aid training, we are establishing a platform to start the discussion and bring an end to stigma.
Get trained. Do you know someone who works with the military or are you military personnel yourself? We've recently updated our Mental Health First Aid for Veterans module to include new statistics and scenarios – look for a course in your area.
---
Janine Smalley, MSN, RN-BC, is assistant patient safety manager at Louis Stokes Cleveland VA Medical Center and is a certified Mental Health First Aid Instructor.