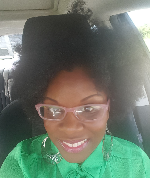 On her good days, Michelle was a ray of sunshine. On her not-so-good days, she was withdrawn, agitated and erratic. No matter what her mood, the glimmer in her eye was always radiating. She was an avid reader, writer and brilliant poet.
I know these things about Michelle because I was her 10th grade English teacher. I began each class with journaling – sometimes about the students specifically and others connected with current events or academic content. On days I opened the floor to share, Michelle often volunteered. It was times like these that I noticed her bravery, independence and willingness to be her own person despite others' perceptions.
The change I noticed in Michelle's behavior began with slight, visible agitations. She would occasionally twitch, her handwriting became less legible, she had difficulty concentrating during journaling time. She started having quarrels with her close friends, often over trivial incidents. We held an intervention and her friends described Michelle as being unnecessarily rude and dismissive.
One day I found Michelle alone in the hallway and she asked me for a pair of scissors. I asked her why she needed them, and without responding, she turned to walk down the hall. I went into the teacher's lounge, but decided to follow up with Michelle because of my uneasiness about our conversation. Somehow, she had gotten a hold of a pair of scissors and was pressing against her skin, attempting to cut her wrist. I immediately took them from her, flagged down the assistant principal and explained the situation.
I contacted her mother as soon as I could and gave her the number of a child psychologist I knew. I later learned these sessions were very useful. Michelle had had a nervous breakdown and was quickly gaining the coping skills to manage her mania and depression.
When I talked with Michelle directly, she was open about her experience and shared this with me:
"By the time I entered your sophomore English class, I was severely depressed and still suffering from the emotional trauma of losing my father. It was also my first day at a new school, and I was terrified at the prospect of not fitting in, especially because of my past experiences with serious bullying.
I ended up having a mental breakdown that left me unable to attend school. But you constantly checked up on me. You coordinated with my mother to make sure I received all my school work and didn't fall behind. And when I returned to school, you did all you could to ensure that I succeed.
I am still in awe of your willingness to do more than what was required of you on paper. You taught us the importance of self-care, meditation and how to deal with and resolve conflict effectively. You created a safe space for us – one that allowed us to be honest with ourselves and with others.
Young people are facing all sorts of trauma and mental health issues, and too frequently they slip through the cracks. The education system shouldn't be just about the academics. It should be about approaching children from a holistic point of view. No one can do it alone."
Michelle is a success story, not just because she overcame her personal obstacles, but because she woke me up as an educator. She forced me to pay attention and be proactive in my advocacy. I have since been trained in Mental Health First Aid, which is just one avenue that has allowed me to better support my students and continually encourage their success.
Tamia A. McEwen is a 10th grade intensive reading teacher at St. Lucie West Centennial High School in Port St. Lucie in Florida.