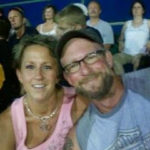 August 23, 2011, is a day that I will never forget. It was the day my brother took his life by suicide. After battling depression for several years, it seemed to consume him on that Tuesday and we lost him forever.
For years leading up to that day, Jim sought help from a therapist and was also on medication … when he took it. When he felt better, he would take himself off his medication and start taking it again when he didn't. There was no consistency. There were several times when he needed someone to talk to and he called me. I was always there for him; I never ignored his cry for help or need to talk.
The day he ended his life, his worried sister had not heard from her brother. I called him and could sense that he was sad and had been crying. I asked him where he was and he told me it didn't matter. I knew something was wrong. I decided to go to his house, hoping that he would be there. The 10-minute drive seemed to take hours.
I kept talking to him to try to keep a conversation going. Then, all of a sudden, I lost contact with him and the phone went silent. I panicked and called his neighbors and asked them to please hurry and check on him.
Unfortunately, I was a few minutes too late. Walking in to find my brother was one of the worst days of my life. To this day, there are still feelings of guilt – the why's and if only's. Why didn't he call me that day? If only I could've gotten there sooner. The worst thing anyone has ever said to me was shortly after he died: "If he didn't do it then he would've sooner or later." That statement still haunts me to this day and makes me realize not everyone knows about depression or what comes with it.
I work in the health care field as a registered nurse and this was something I couldn't ignore – for my brother and for others. I learned about various mental health issues while going to nursing school, but that was more than 30 years ago. Mental health was not as widely talked about as it is today and resources to learn about it were not as readily available.
Now, working as a school nurse, I had the opportunity to take a Mental Health First Aid class. Working in a school setting, I use many of the topics discussed in the class every single day. Not only do I use my training working with students, but also when working with parents and staff. We all have to work together and do our part to help students overcome their challenges and educating ourselves and raising awareness is a major step in the right direction.
Youth Mental Health First Aid helped me better understand the signs and symptoms associated with mental illness and how to help young people in both crisis and non-crisis situations. It also helped me move forward in my personal healing and find a way to help others. If I can help save one life, I feel I have done my part.
Moving on from this experience has been tough, but I hope that it helps educate and encourage others to learn about mental health challenges and how they can help.