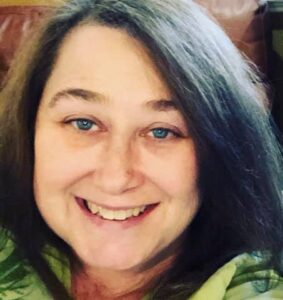 Taking Mental Health First Aid (MHFA) training, being a First Aider, has changed me. I've been with Sutter-Yuba Behavioral Health (SYBH) for 25 years. SYBH provides services to individuals and families who are experiencing serious or ongoing mental health and/or substance use disorders in Yuba and Sutter Counties, California. I coordinate all our MHFA and Youth MHFA training sessions – we have eight Instructors and since October 2020, we've trained about 350 First Aiders virtually through a grant from Sutter-Yuba Behavioral Health's I Care program. 
I've worked in the field, and I type our doctors' notes for the hospital. Working in the field, you can become desensitized. MHFA brings what you're doing back to the person. It adds perspective: It's not just work. It's helping someone. 
The most valuable thing I've learned through MHFA is what to say and what not to say. I've learned that sometimes we think we're helping, but we aren't. With the death of my husband about a month ago, I've experienced that firsthand. 
The program totally changed how I think about things and how I word things. It's made me understand how to talk so someone knows I am truly listening, that I truly care. It's helped me to know how to validate their feelings and demonstrate that it's not about me, it's about them.  
I've always struggled with self-care, but this program stresses self-care. Since the death of my parents, and now my husband, I am beginning to learn how to do self-care, and I've started GriefShare classes. I am still far from doing good self-care, but I am trying. 
I know someone whose child is struggling, and because of MHFA, I was able to relate to them on more of a friend-to-friend level. They felt there was no hope, but I was able to provide that hope for them. Even though their child is struggling, there are resources. Before, I might have only given them phone numbers for a crisis line or county services. 
As a First Aider, you can be a lifeline. I hold on to that. I want to be that lifeline for someone to have hope and know they don't have to stay where they're at: They can change; they can get help. 
I've sat in on about 40 classes – we offer them to county employees and anyone who works or lives in either county. Even as many times as I've attended, I'm excited to be there – there's so much to MHFA! I don't care how many times you take the course, there's always something new you can pull from it. 
My coworkers have also taken the class, and it's changed the way they work. It's made them understand how to relate to people on a more basic level than just the professional level. It's helped them really understand what people are going through. A lot of people thought it would be something they already knew, but from supervisors down to staff at my level, they've come back to me and said, "This is invaluable." 
If you know someone who's thinking about taking an MHFA course, I would tell them it's the best course they will ever take in their life. It's not only valuable to them, but to their family members, their friends and their community. We really need to understand that mental health is as important as physical health, if not more. These classes teach you how to help someone who might be struggling. You can provide hope and reassurance that they're not alone, and that there's help out there. You can reduce the stigma around talking about mental health.