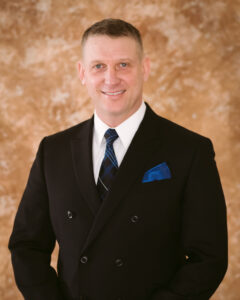 What do we do when our world is turned upside down? During a pandemic, when the playbook is being written in real time, first responders across the country do what they're trained to do: We go back to the basics and let our training guide us. We instinctively go to what we know and have been trained in, even when the entire situation is unknown.
As a law enforcement officer, an MHFA Instructor, and an MHFA National Trainer, I find my most helpful role to be when I am acting as a First Aider. ALGEE races through my mind dozens of times each day at work, at home, on the phone and during so many interactions. And I'm not alone. I'm very proud that almost every officer in every agency in our county is also trained in Mental Health First Aid and ready to use ALGEE whenever they can.
As we began navigating through this COVID-19 pandemic as first responders in Clark County, Illinois, one of our first initiatives was to monitor the mental health and well-being of our residents. I had very long conversations with our agency administrator, Sheriff Bill Brown, and we determined there were two additional populations that needed our attention: our first responders themselves and our inmate population. We discussed how we could use MHFA content and modules to help these groups, and how to reach out to each other in the meantime.
I often remind myself and others that to be a good First Aider, you need to protect your own mental health too. Our bullet-resistant vests are not resistant to mental health challenges, which are whirling around today's world at lightning speed. We are not immune. To be the person that is called to help with a mental health challenge, we need to make sure we are well-prepared and capable to be that help first.
We have shared self-care messages to our first responders, reminding everyone that it's ok to not be ok and that reaching out to each other or another resource for help is acceptable. I also routinely reach out to my personal network of Mental Health First Aiders from around the country and check in with them. We help each other maintain our own self-care so that we are better prepared to make a difference when someone else may need a helping hand.
To be able to help our inmate population in the best way possible, we developed an inmate Mental Health First Aid training plan. Sheriff Brown and I worked out many details to offer our facility's first-ever MHFA class for inmates only. We worked on security plans, health plans, housing plans and social distancing plans, and then developed backup plans for each one. Each inmate was offered the opportunity to attend an MHFA class and become a certified Mental Health First Aider, which was sponsored in part by the Human Resources Center of Edgar and Clark Counties.
We also added time to discuss the "outside world" and social norms to help prepare them for their eventual release. Helping them means helping their families as they struggle with daily challenges. The inmates all rose to the challenge and met the course head on with the seriousness it deserves. As their daily lives were changing because of COVID-19, each inmate was happy to be part of a solution that would help them get through some of the struggles. The pride in each inmate's face as they sent home a picture and MHFA certificate is something I will never forget and was well worth the extra effort. And although we offered an inmates-only MHFA training because of COVID-19, we have seen it make a difference already and plan to keep it going for a very long time. It is protecting our inmate population's mental health and well-being, improving the safety for our officers and inmates, and helping our larger communities too.
When it comes to mental health, I have seen many first responders turn to what has been tried and proven effective before the COVID-19 pandemic, and so far it has held the test of time as we progress through it. That is Mental Health First Aid and ALGEE. We have 2.5 million Mental Health First Aiders across the country, some of whom are officers in our county, and now is certainly the time for them to use what they have learned in MHFA and #BeTheDifference for whomever they can.
Learn more about how you can #BeTheDifference during COVID-19.