For up to 30 million people in the United States, thoughts and emotions related to body image are distorted and can interfere with a person's daily life as an eating disorder. And among those with eating disorders, less than a third received treatment for a mental health problem in the past 12 months.
But you can help. According to the MHFA curriculum, research has shown that the sooner treatment is started, the more likely the person is to recover from an eating disorder. As a Mental Health First Aider, you can use the knowledge and skills you've learned to recognize the signs and symptoms of an eating disorder and help those around you get the support they need as soon as possible.
How to Know if It's an Eating Disorder
Eating disorders can sometimes be difficult to recognize. A person with an eating disorder might be underweight, overweight or even normal weight. That's why it's important to know the signs and symptoms that may indicate someone is struggling: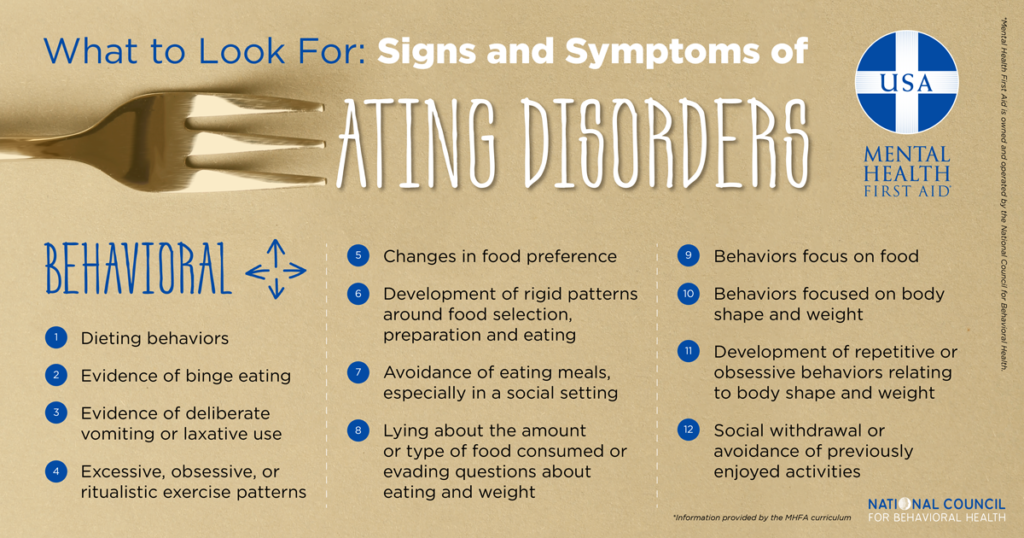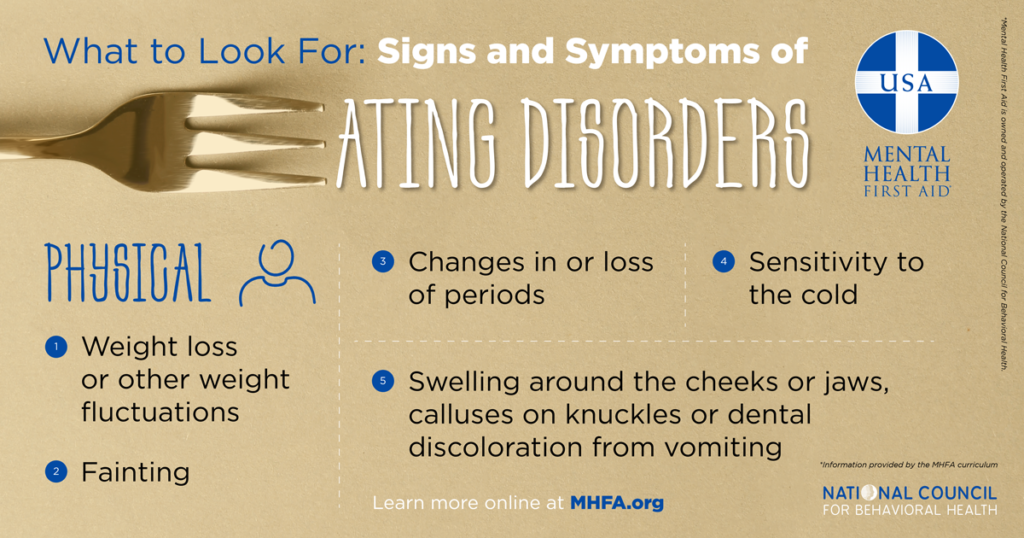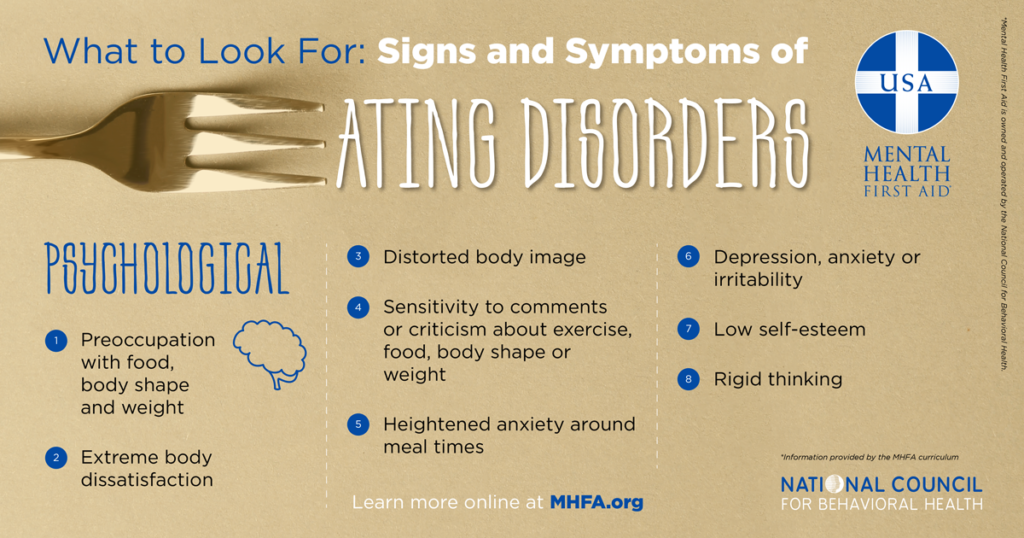 How to Help Someone With an Eating Disorder
If you suspect someone is struggling with an eating disorder, Mental Health First Aid can help.
Mental Health First Aid teaches you to recognize the signs and symptoms of an eating disorder and how to respond using the ALGEE Action Plan:
ASSESS for risk of suicide or harm: Before you approach the person, learn as much as you can about eating disorders by reading books and articles or gathering information from a reliable source, like an eating disorder support organization or health professional who specializes in nutrition. Approach the person in a private, quiet and comfortable space and discuss your concerns in an open and honest way. Try to use "I" statements that are not accusing, such as "I am worried about you."
If the person is experiencing an extreme level of crisis, suicidal thoughts or non-suicidal self-injury, call 911.
LISTEN nonjudgmentally: Listen to the person's concerns, as there might be issues in their life that need to be identified. Depression and anxiety may also be present.
GIVE reassurance and information: Try to provide support so that the person feels safe and secure enough to seek treatment or talk to someone else he or she trusts. Reassure them that people with eating disorders can get better and that just because previous attempts to get well may have failed, it doesn't mean they cannot get better this time. Encourage them to be proud of any positive steps.
ENCOURAGE appropriate professional help: Eating disorders are complex mental disorders, and people experiencing them often benefit from professional help. Offer to help the person get the help they need.

Keep in mind that if the person is very underweight, they may not be able to take responsibility for getting professional help, as an eating disorder can affect the person's ability to think clearly. If you have concerns the person has serious physical health consequences from an eating disorder, you should call emergency medical help and let the medical staff know that you suspect the person has an eating disorder.

ENCOURAGE self-help and other support strategies: You can suggest that the person surround themselves with supportive people and organizations that provide support. Self-help books based on cognitive behavioral therapy (CBT) can also work for bulimia and binge eating disorders. It is best to work through these books under the guidance of a therapist, but there is also benefit in using the books as self-help.
To learn more about how to help someone who is struggling with an eating disorder, take a Mental Health First Aid course. The course will teach you how to identify, understand and respond to signs and symptoms of an eating disorder. With the right information and resources, we can support each other and #BeTheDifference in times of need.