If you notice a friend or loved one experiencing a substance use challenge, you may want to help, but might not know what to say or what to do. One of the first and most important steps you can take is to start the conversation and create a safe space where your loved ones feels comfortable talking about their experience.
To express support, you must be an effective and compassionate communicator. When you know what to say and what to do, you can be the difference in the life of a loved one who may be experiencing an addiction challenge, and ultimately help them move toward recovery by pointing them to appropriate professional, peer or self-help strategies.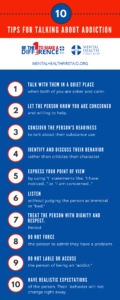 To make these conversations as effective and compassionate as possible, keep these 10 tips for talking about addiction in mind:
Talk with them in a quiet place when both of you are sober and calm.
Let the person know you are concerned and willing to help.
Consider the person's readiness to talk about their substance use.
Identify and discuss their behavior rather than criticize their character.
Express your point of view by using "I" statements like, "I have noticed…" or, "I am concerned…"
Listen without judging the person an immoral or "bad."
Treat the person with dignity and respect.
Do not force the person to admit they have a problem.
Do not label or accuse the person of being an "addict."
Have realistic expectations of the person. Their behavior will not change right away.
Talking about addiction can be difficult, and your words of support may not be well received initially. But don't get discouraged. Recovery from addiction is possible and your willingness to start a conversation may ultimately help someone get on the path to recovery.
If you're not sure how to recognize if someone is experiencing an addiction challenge, take a Mental Health First Aid course today. You'll learn the signs and risk factors of addiction, available resources and how to connect those in need to the most appropriate care.
#BeTheDifference in the life of your friends, family and loved ones – because you can.