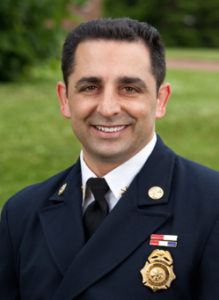 We don't provide our services in a vacuum. We are people who provide services to other people. And like many first responders across the country, the Clifton Fire Department in Clifton, N.J., is seeing an increasing number of calls from people who are experiencing some kind of mental health or substance use crisis. This is especially true for us because we provide emergency medical services in addition to responding to fire calls.
The fire department has made a major commitment to the welfare of our community and trained all 125 members of our team in Mental Health First Aid. We use the tools and techniques we learned every day.
When you are providing services to people in crisis, recognizing that taking your time, developing a rapport and developing trust is critical. Mental Health First Aid has helped all of us develop those skills.
Once, two families were displaced from their homes by a fire. At 2 a.m., the fire was extinguished but one woman was still visibly upset. She was the mother of three children and was unable to reoccupy her home due to the damage.
I talked with her and assured her that she and her family would be taken care of. After a few moments, she said, "You've obviously had some empathy training, because you and your people have been incredible in helping me and my family."
This type of reaction from the public, from the people we serve, confirms to me that Mental Health First Aid is worthwhile. After all, that's why we're here – to step out of the vacuum and remember that we are the people who provide services to other people. And Mental Health First Aid helps us do that to the best of our ability.
---
Michael Allora is a retired Deputy Fire Chief, Clifton Fire Department, and a Mental Health First Aid Instructor.
If you are a first-responder or know someone who is, consider taking the Fire/EMS course so you can equip yourself with the tools necessary to recognize and respond to a person experiencing a mental health or substance use challenge in the face of a natural or man-made disaster.