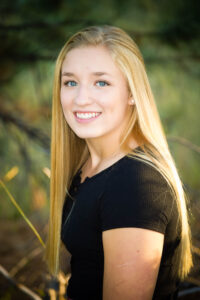 "Really, another mental health program?" 
"We all know none of these make any difference anyways." 
These were the common grumbles of my Jefferson High School (JHS) classmates and me as we walked into the library to begin yet another mental health program. However, none of us knew just how big of an impact the teen Mental Health First Aid (tMHFA) training would have on our school and community.
Here in Boulder, Montana, the harsh winters often lead to Vitamin D deficiencies, which can lead to seasonal depression, a common mental health challenge. Even with this common pattern, a huge stigma around mental health existed in our school. At JHS, our faculty has tried bringing an assortment of different mental health programs and work to the school to help students' mental health and eliminate the stigma.
At this point in the 2018-2019 school year, my junior year, everyone believed we would just be watching the clock tick by during these programs. However, tMHFA was able to reach us on a more personal level.
Throughout each session, we were taught many skills, such as how to put a person who has overdosed on drugs in a recovery position and an action plan to use when interacting with someone who may be facing a mental health crisis. The tMHFA Action Plan teaches you specifically: Look for warning signs; ask the person how they are; listen to what they say; help them connect with an adult; and in the end remember your friendship is important and should be valued.
Before taking tMHFA, I had a close friend tell me explicitly he was considering suicide. I told an adult and ensured he received the help he needed — although I did not yet have the knowledge to use the tMHFA action steps. Thankfully, the person was okay and got the help he needed. However, I realize now, after taking tMHFA, that under the stress of the mental health crisis, I was unable to continue valuing our friendship. As a result, we are no longer friends. The situation was handled in a way that kept everyone involved safe, but perhaps not in the best way possible.
While taking the training, I had a different friend show signs of mental crisis. This time, I was prepared to act. I followed all the Action Plan steps and told multiple adults in school who were trained in Mental Health First Aid about what was going on. Being confident in using these steps and following them closely aided my ability to help my friend, and it helped us to stay friends after the crisis passed. The tMHFA training allowed me to be a role model to my peers because I was able to handle a stressful situation calmly.
The tMHFA action step to remember the importance of your friendship while helping someone in the midst of a mental health crisis can often be forgotten or undervalued. The reality is that mental health challenges are normal and even common. Instead of pushing a friend away because the situation is scary, we should be treating them with kindness and reminding them that it is normal, and they will be okay. More kindness in the world would help to eliminate a lot of the stigmas attached.
The tMHFA training has truly opened my eyes to a variety of new resources, helped me to become who I am, and connected me with other people my age who have been working hard to make a difference in our own respective communities. My experience with tMHFA had a great impact on my community by showing that mental health is a serious matter, and there are people who care and resources to help.
Getting trained in tMHFA and immediately using what I learned to help my peers has inspired me and ignited a passion within me to change the world by always promoting kindness and working to eliminate the stigmas around mental health. With the help of tMHFA, together, we are working to create a kinder and braver world.