After months of what felt like a never-ending downward spiral, Adam Hill found himself deep in the woods, bottle of vodka in hand with the intent of killing himself. Hill had been living with depression since college; but as a pediatric palliative care doctor, he did not want to advertise what others in medicine might view as a weakness and kept his challenges to himself. A year ago, he broke his silence ("After almost taking his own life, Riley doctor focuses on saving other physicians," IndyStar, June 25, 2017).
Depression, burnout and suicide occur at higher rates in the medical profession than in many other fields. Nearly one in three doctors is clinically depressed, and approximately 400 physicians take their own lives every year. These numbers are doubled compared to that of the general population. And yet, according to a University of Michigan study, only 6 percent of doctors who are diagnosed with depression report it to their state medical board.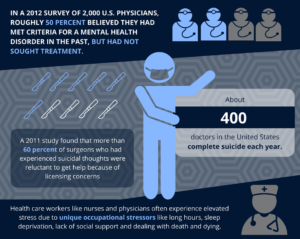 "Part of the problem is that doctors stigmatize mental illness and treat it differently than they do physical frailties," said Hill. In a personal account, he juxtaposes the way doctors talk about colleagues who have cancer with those who have a mental illness. He writes that a doctor would never speak about a colleague with cancer as though they are not tough enough to handle it; yet he recalls overhearing a doctor who, upon learning of a colleague who committed suicide, remarked, "I always worried she was not strong enough to be a doctor."
A doctor's work environment can be especially toxic and exhausting. In a setting where both patients and physicians may expect perfection, mistakes are bound to happen; and oftentimes, it is the doctor who carries the weight of such mistakes.
Hill had known at least one person at every step of his training who committed suicide – and finally, he felt obligated to speak out. In March, he publicly shared his path toward recovery and called for a culture change in his profession:
"Rather than stigmatizing doctors who face mental health, addiction and other challenges, [I would] like medicine to find a way to provide the support and help these individuals need to become productive, safe physicians."
A reorientation of attitude surrounding the mental health of doctors must be made – first and foremost within the medical community. Mental Health First Aid training is a way to not only learn to recognize the warning signs of mental health or substance use challenges, but to also feel empowered to talk about it. It is a way to open the conversation and create a space where all professions can feel comfortable to speak out.
Mental Health First Aid provides people with the opportunity to #BeTheDifference in their community. As Hill noted, "If we can make a difference and make someone's moments or days better while they're here, it's worth it."
Sign up for a Mental Health First Aid course.