This post originally appeared on Linda's Corner Office Blog. Read it here.
---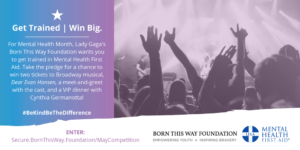 May is Mental Health Month, and I can't think of a more appropriate way to mark the occasion than to announce the launch of #BeKindBeTheDifference – a contest sponsored by the National Council and Lady Gaga's Born This Way Foundation to encourage people to get trained in Mental Health First Aid. Anyone can learn to be the difference for someone who is experiencing a mental health or addiction crisis if they know what to say and what to do, and those are the skills Mental Health First Aid teaches.
During May, those who take the pledge – and register for an upcoming training – will be entered to win a pair of tickets to the hit Broadway musical "Dear Evan Hansen." The winner will also receive a VIP meet and greet with the cast following the show and dinner with Cynthia Germanotta, president and co-founder, with her daughter Lady Gaga, of the Born This Way Foundation. Flight and accommodations for the winner and their guest will also be covered.
"Mental health is an urgent issue that affects nearly every family in every community – including mine," Germanotta said. "I've been trained in Mental Health First Aid, so I know what a powerful tool it is."
If you've been waiting for the right time to be trained in Mental Health First Aid, wait no more! But don't do it just for this once-in-a-lifetime opportunity. Become trained in Mental Health First to:
Join more than 1 million Americans who have already been trained, including everyone from teachers, police officers and employers to former first Lady Michelle Obama, NFL wide receiver Brandon Marshall and television personality Dr. Oz.
Learn compassion and nonjudgmental caring, while gaining practical tools to help.
Help change hearts and minds about mental illnesses and addictions by increasing awareness that mental health is essential for health.
Create a sense of community by restoring the connections that bind us – connections that when frayed lead to loneliness, social isolation and physical and mental health problems.
The mental health of our citizens is important every month, and the #BeKindBeTheDifference contest gives us one more opportunity to say so. Don't wait another minute. Find a Mental Health First Aid course near you. Then take the pledge and register for your chance to win the "Dear Evan Hansen" tickets. But even if you don't get the tickets, you'll still be a winner because you'll receive the greatest prize of all – the chance to make a difference in someone's life. Join the conversation and let us know what Mental Health First Aid means to you.