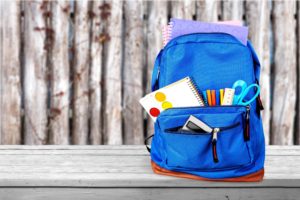 It's the night before the first day of school. You're a teacher and scrambling to make sure your classroom is stocked with the tools your students need to be successful this year: markers, rulers, flip charts, glue sticks—the list goes on. But what's in your mental health toolkit?
According to the National Alliance on Mental Illness, one in five young people ages 13-18 have, or will have, a serious mental illness in their life, and half of all lifetime cases of mental illness start by age 14. Unaddressed mental health concerns in young people can affect every aspect of their lives—from relationships with classmates to performance in school—and teachers are in a unique position to notice and intervene when a student may be struggling.
Programs like Youth Mental Health First Aid equip teachers, parents and caregivers with the skills they need to identify and reach out to a young person who may be experiencing a mental health or substance use problem.
Here are 4 tools you can use to boost mental health at school:
1. Know the signs. Youth have unique risk factors for mental health problems, especially when you consider today's often highly-competitive, stressful school environment. Knowing what signs to look for—like withdrawing from friends, dramatically increased or decreased appetite or acting out uncharacteristically—can help you know when you may need to offer support to a student.
2. Know how to start a conversation. Though more people are now talking openly about mental health, stigma is pervasive and can make having conversations about mental health tough—especially for young people. Being genuine is a good place to start. If this is an uncomfortable topic for you, saying something like, "This is hard for me to talk about, and maybe it's difficult for you too," can be a good way to start the conversation. Additionally, talking to an LGBTIQ student about their mental health requires an understanding of that person's unique experiences. Familiarizing yourself with LGBTIQ culture, language and resources can help you better support the mental health needs of LGBTIQ students
3. Know what resources are available. Does your school have a mental health counselor? Is it appropriate to involve parents or other caregivers? Are there support groups in the area that might be helpful? Know what resources are available in your school and community so you can be prepared to offer information to a student who needs it. Being able to provide a young person with information on what help is available can be an invaluable tool
4. Take care of yourself. "You can't serve from an empty vessel." The act of providing support to others can sometimes leave you feeling worn out, frustrated or even angry. Taking the time to do things for yourself—like taking a walk, doing some breathing exercises or venting to an understanding friend—will help you stay healthy, happy and in a better frame of mind to care for others.
Young people can face a variety of mental health conditions and knowing how to recognize and provide assistance tailored to the individual's needs is important. To learn more about how to support students' mental health, register for a Youth Mental Health First Aid course near you (look for the courses with the purple "Youth" icon).
On Friday, August 26 at 2 p.m. ET, Mental Health First Aid USA and Born This Way Foundation will join the National Council for Mental Wellbeing for a "Mental Health at School" Twitter chat. Join the chat to learn more about the importance of mental health at school. To participate, follow @MHFirstAidUSA, @BTWFoundation and @nationalcouncil on Twitter and use the hashtag #BH365 in your responses.