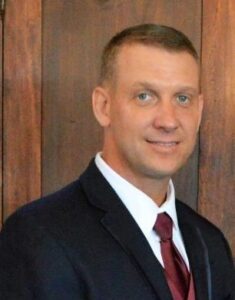 Deputy sheriff. Army veteran. Crisis intervention specialist. Hostage negotiator. These titles paint a picture of the multitude of trainings I've taken and certifications I've earned throughout my career, but I am first and foremost a Mental Health First Aider. 
I have retired after 23 years in law enforcement and taken on the primary role of a Mental Health First Aid (MHFA) National Trainer, and I still have officers who call me while they are on the job. They say things like, "I know we've taken this MHFA training and I'm going on a call – can you refresh my memory on person-first language?"
As a law enforcement officer, I learned that every person we communicate with when responding to a call has family members, friends or loved ones who want to understand the situation. MHFA isn't just helpful for the people involved in an incident: Everybody's got somebody who may be impacted. 
Just like invisible wounds, there are invisible tools.
We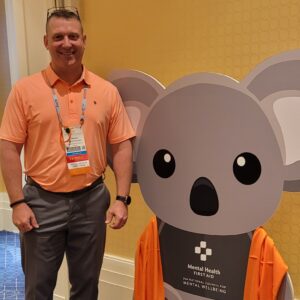 all start from the same space in MHFA; it's designed to give people who are not mental health professionals more tools in their toolbelt. 
In the public safety and veteran cultures, there's a lot of conversation around "invisible wounds," the emotional, cognitive and behavioral conditions associated with trauma and adverse life experiences. There are also invisible tools. As a police officer, I had many tools at my disposal, but I tended to use one you couldn't see – MHFA – the most. I used MHFA to some degree with almost every single incident I responded to. 
Just like you can't always see visible signs of depression or post-traumatic stress disorder in individuals who have experienced complex trauma, the people you come into contact with can't see your MHFA training unless you use it! If you can get your mind and mouth to work together using the evidence based MHFA Action Plan (ALGEE), many times you may not need any other tools. 
Language is powerful.
For law enforcement officers, choosing thoughtful and appropriate language could be the difference between a positive outcome and a less desirable one. Often, simply changing or rearranging a few words can go a long way.
Rather than responding to a call with a "what did they do?" mindset, try thinking, "How can I help them?" Then, you are not inadvertently communicating a pre-conceived notion of what happened or how it will end. 
MHFA empowers us to do that in our conversations by emphasizing the importance of inclusive, person-first language. Yes, when we arrive on site, we may have to de-escalate a situation, but the words we use and how we respond might negate the need to. I don't mean de-escalation isn't necessary sometimes, but that we should think just as much about escalation prevention.
Don't forget the self-care!
We may think it's easy to share information and give hope to others, but we also must recognize there are times when we could use help.
Going into retirement was a huge adjustment for me. Thankfully, I had several officers, former co-workers and fellow MHFA National Trainers and Instructors to help me focus on the positives and get out of the "What will I do now?" mindset. This was especially beneficial as COVID-19 made traveling and other activities complicated. 
For me, self-care is key. I have a wonderful wife, four adult children and four grandchildren. Things like getting together to eat breakfast with my family provide me with moments to sit back, reflect and be grateful. And because of MHFA, I know that it's OK to not be OK 100% of the time. Sometimes appropriate professional help can really help us process the bumpier parts of our own journey. 
The challenges presented over the last couple of years have brought to light just how common it is to experience mental health and substance use challenges. I encourage you to keep working to reduce stigma and continue to #BeTheDifference in advocating for mental wellbeing in your community. Learn more about MHFA for Public Safety and sign up for a training today by using our Find a Course or Instructor tool, search by start date and select "Public Safety" under "supplement course" type.