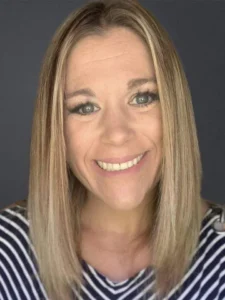 I always thought I knew the best way to have a conversation with people. I have three kids, so I thought I knew how to communicate well.
But in 2017, after a colleague and I attended a Youth Mental Health First Aid (Youth MHFA) training. We looked at each other halfway through the training and said, "We need to bring this invaluable training to our community." I learned several effective ways to communicate with children, family and friends. I also learned warning signs people show when they are unwell or in crisis, how to rephrase comments and questions, and ways to ask tough questions.
That one 8-hour training changed my life. I was provided with tools to assist not only my family, but our rural community. Now that I had become a First Aider, it was clear I needed to become an Instructor, too.
From First Aider to Instructor
In 2017, my colleague and I received a grant that allowed us to apply to become Adult MHFA Instructors with a focus on the Fire/EMS community-specific course. We became certified in September 2018 and immediately began hosting trainings within our rural community.
When living in a rural community, like mine in upstate New York, it can be hard to access mental health services because it is so remote. Oftentimes our fire and EMS don't have time to process a call they were just on or debrief properly after a call before being sent right back out to another call. We saw the need for support, especially with the overdose epidemic in our small, rural area.
We wanted to provide support to not only our first responders, but also to their families. Currently, our community doesn't have a mobile crisis team. This makes it difficult for our first responders. If someone is experiencing a mental health crisis, they are often transferred an hour away by police or in an ambulance because we don't have the resources within our small communities.
Though we were making a difference in the Fire/EMS community, I still felt like I could do more and wanted to make a more significant impact.
Youth Focused
In April 2019, my friend and I traveled to Atlanta to become YMHFA Instructors. I soon learned that as much as I loved the teaching AMHFA, the youth curriculum was near and dear to my heart.
Being able to work with school districts, youth organizations, parents and/or caregivers has been the most rewarding part of this journey. Hearing how we have helped adults who have youth in their lives is more than I could ever imagine.
My friend and I have trained more than 633 adults in the YMHFA Curriculum since the beginning of May 2022. Out of 633 First Aiders, 535 of them work directly with a school district within upstate New York.
Youth MHFA training is for everyone! I cannot express enough that this training is for every parent, coach, teacher, bus driver, daycare provider and anyone else who has a youth in their life. This training is not only changing my life and relationship with my own children, but we are able to see and feel it in every training we facilitate.
One of my children is 16 years old, and I know the impact the pandemic had on his mental health. YMHFA and tMHFA is a great way to start the conversation about mental health and bring this impactful training to local school districts and youth-servicing organizations. Starting the conversation is the first step in changing the stigma surrounding mental health.
In 2022, I became certified in teen Mental Health First Aid. In the spring of 2022, we taught the tMHFA curriculum to more than 750 teens in grades 10 and 12 within 10 of our rural school districts. It spanned three counties in upstate New York! It is inspirational to hear teens ask questions, engage and feel open to be able to share their journey. Teaching them how to help a friend by identifying warning signs, know when to get a trusted adult, and what resources are available is invaluable. Teens learning these meaningful and extremely important tools will save lives.
The more we can equip our youth with accurate mental health information, the more lives we will change.
Take Action
If you have ever thought about signing up to attend a MHFA training, do it. You have nothing to lose, and everything to gain. You will gain new tools, skills and a proven Action Plan to help you along the way.
If anyone would have told me in 2017 that Youth MHFA training would change my life, I would never have believed them. But today I am saying — as a mom, as a community member, as a Mental Health First Aider, and now an Instructor as well — sign up today for this invaluable training opportunity. We are empowering minds and changing communities one person at a time.
Interested in starting or continuing your mental health journey? Become a certified First Aider and Instructor and #BeThe1in15 in your community.
MHFA has trained 3 million Mental Health First Aiders! Help us reach millions more by using #BeThe1in15 to join the conversation and raise awareness.