Aetna Behavioral Health is taking Mental Health First Aid (MHFA) everywhere the company has a reach – including behavioral health providers within its network, its internal employees and staff and the communities it serves.
"It's so important to bring MHFA to the communities where Aetna has a presence," said Aimee Prange, one of Aetna's MHFA Instructors. "We offer MHFA not only to our Aetna members, but also to the greater communities we serve, whether or not Aetna is their insurance carrier."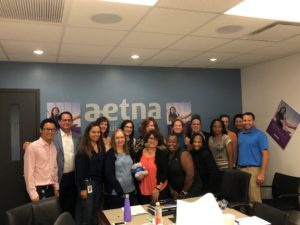 In the summer of 2018, MHFA launched its Summer Champions initiative, challenging organizations with at least 20 Instructors (Aetna has 21) to teach at least 10 courses between the months of June and September. Aetna, a CVS Health business, doubled that goal. In 2018, Aetna trained 733 people in more than 53 classes – both internal and external. Since 2013, Aetna has trained almost 4,300 people.
With 21 MHFA-certified Instructors working for the company, Aetna offers MHFA to the community at large through its member care coordination program. Aetna sends an MHFA Instructor to qualified private facilities in their network to teach classes to the member organization's staff and the community the facility serves. "We want to not only support our members – their employees and staff – but also their families and caregivers," Aimee said.
The trainings have had significant impact, she noted, "Families and caregivers are so appreciative of this class because it gives them the tools to better support their loved ones. They're often provided very technical information, but MHFA is a much more practical, easy to understand way of speaking about mental illness."
At one training she taught at a behavioral health facility, Aimee recalled a couple whose daughter had just been admitted for attempting suicide. "The parents came up to me after the class and told me how helpful this was because they felt they had a lack of understanding of what their daughter was going through. The training allowed them to open up, embrace their daughter and support her."
In addition to benefitting families and caregivers of a person living with a mental illness, MHFA assists the staff at the behavioral health facility who may not have a clinical background. MHFA provides them with the tools they need to speak to and approach someone who might be living with a mental health problem.
Aetna also offers MHFA to its own employees and some departments within the company have mandated MHFA for all their employees. In departments where the training is not mandated, MHFA-certified Instructors working for Aetna offer the training voluntarily.
"I'm always pleasantly surprised to see how many people are interested in taking MHFA from all over the company," said Aimee. "My classes fill up immediately. I have long waitlists so I add additional classes to accommodate the need."